Even more so, it has become particularly powerful to pair a website with an ecommerce platform, thereby broadening customer reach and 24/7 accessibility. And this global e-commerce market is expected to total a whopping
$6.3 trillion in 2023. 79% of shoppers
already shop online at least once a month.
Are you also looking to join this momentum and scale your business through an online presence and/or ecommerce platform?
If so, Squarespace might just be the perfect solution for you.
With a team of 1,400 people strong, Squarespace orchestrates billions of customer experiences for businesses in 100+ countries.
What is Squarespace All About?
Squarespace
is an all-in-one website-building and ecommerce platform that enables individuals or businesses to build a brand and transact with customers across all digital touchpoints.
Squarespace's products enable users to manage their projects and businesses through websites, domains, ecommerce, marketing, and scheduling tools. In addition, the platform provides management tools for social media and general business management (through Unfold and Tock, respectively).
The 10-Step Guide to Squarespace
With Squarespace's intuitive and guided processes, you can quickly design, launch, and optimize a thoughtful, functional, and accessible website with only 10 steps.
Make sure to snatch up your preferred domain name. Buying a domain with Squarespace is straightforward through its Domain Name Search tool. When choosing an annual website plan, you can register your first domain through Squarespace for free (for the first year). You can also transfer your domain to Squarespace if you've already registered your domain elsewhere.
Step 2: Build your website
Start with a flexible template based on your business type (e.g. online store, local business, portfolio, blog, restaurant, etc.). Then use the website builder to customize this template to fit
If you don't already have a logo, use Squarespace's logo maker to create one. Simply enter your company name and let the tool guide you from there.
Step 4: Launch your ecommerce business
If you're looking to expand your online presence with a sales component, use Squarespace's template features to get your ecommerce business off the ground. Set up and customize your online store with product merchandising tools, connect a payment processor to enable online transactions, and use shipping and inventory management tools to action your orders.
Step 5: Set up scheduling
If the nature of your business includes availability management or appointment setting, utilize the Squarespace Scheduling feature. It allows your clients to view your availability as well as book any appointments or classes. Bonus points: they can also pay and reschedule online.
Step 6: Consider a membership component
If applicable, incorporate a membership feature into your offering. Add members-only content such as classes, newsletters, guides, videos, and more. You can also further customize your member area landing page and sign-up page as well as connect your preferred payment processor to receive payments.
Step 7: Take advantage of extensions and connections
Add third-party SquareSpace extensions to help you manage, optimize, and expand your site. Powerful examples include:
In addition to extensions, connected services are built into your Squarespace website so you can easily connect to leading payment, shipping, social media, and marketing tools.
For example, you can connect your Facebook, Instagram, LinkedIn, and other social media and marketing accounts to display content from your social profiles directly on your website.
Step 8: Launch email campaigns
Use Squarespace add-on feature – Email Campaigns – to send branded marketing email campaigns directly from your website. You can create compelling emails with your existing products, blog posts, and marketing elements ensuring your branding is consistent.
Also, you can automate important email features. For example, you can automatically welcome new subscribers to your mailing list or send them a new-member discount.
Once live, assess how your campaign is performing. Use email analytics to track the most important metrics, from open-rates to clicks and conversions.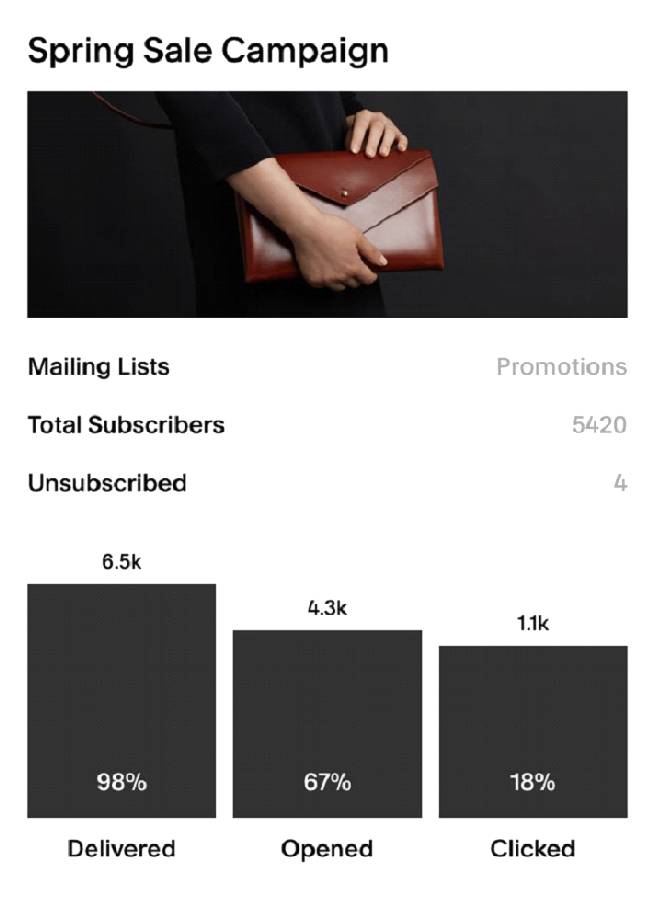 Image Source: Squarespace
To increase your marketing and engagement reach, consider adding a blog. Simply add a blog page to your website. Then create, publish, and manage your content with the blog and image editing tools. Lastly, market your blog using Squarespace's integrated marketing tools.
Step 10: Perfect your SEO
Leverage Squarespace's advanced SEO tools to optimize your site for search and visitors.
By the way, Squarespace was the first website builder to integrate directly with the Google Search Console. So by verifying your site, you can easily view what keywords your customers and visitors are using to find your site.
Image Source: Squarespace
And if you opted for an ecommerce business, the SEO features are particularly important. Squarespace automatically generates SEO‑friendly pages with static URLs for every product category. Moreover, all Squarespace online stores are designed to maximize the visibility of your brand and help shoppers find your products.
Try Squarespace's 14-day free trial to explore the platform. The trial lets you begin building a platform before fully committing to a subscription. And if you need more time, you can always extend it or start again later.
And if you'd prefer a visual preview before any commitments, you can check out the tutorial videos, live expert-led webinars, and numerous guides in the help center. If you end up using Squarespace, then you need realtime insights to improve your Customer Experience.
Try Germain UX out for Squarespace.