When we surveyed the IT professionals about the state of their State of their APM efforts, we kept an eye for those who listed Customer Relationship Management (CRM) and/or e-commerce and order management as their top priorities (#1 or #2) for APM. Then we put together an infographic that colorfully display's these APM priorities for CRM.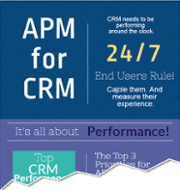 The key to APM for CRM? Performance. The top three priorities for APM are increasing performance for end users, reducing risks linked to poor application performance and measuring and analyzing performance. All roads lead back to performance!
Closely related to performance, the top challenge for order management and e-commerce applications is availability. Twenty nine percent of IT professionals agreed that availability ranks above end user experience and integrations as the biggest challenge.
Because CRM applications are complex applications that are tightly integrated into other systems, it is not surprising that 59% of IT experts experience some kind of performance problem at least once a week.
See the "APM for CRM" infographic below for more interesting facts and figures.
How does your organization compare to the data presented in the infographic?
Bloggers and other writers are encouraged to share and publish the infographic using the embed code provided at the end of this page, under the infographic.