We are excited to launch our new product, germain CRT™ . germain CRT is generically built, so germain CRT can be used to automate the review of any customizable business application e.g. SAP, Oracle EBS, etc.
Yet germain CRT is currently only configured for Siebel. For Siebel, germain CRT takes the guesswork out of your Siebel customization by comparing your environment(s) against a rich, dynamic library of hundreds of best practices for how to configure, customize and extend Siebel.
germain CRT helps development and QA organizations: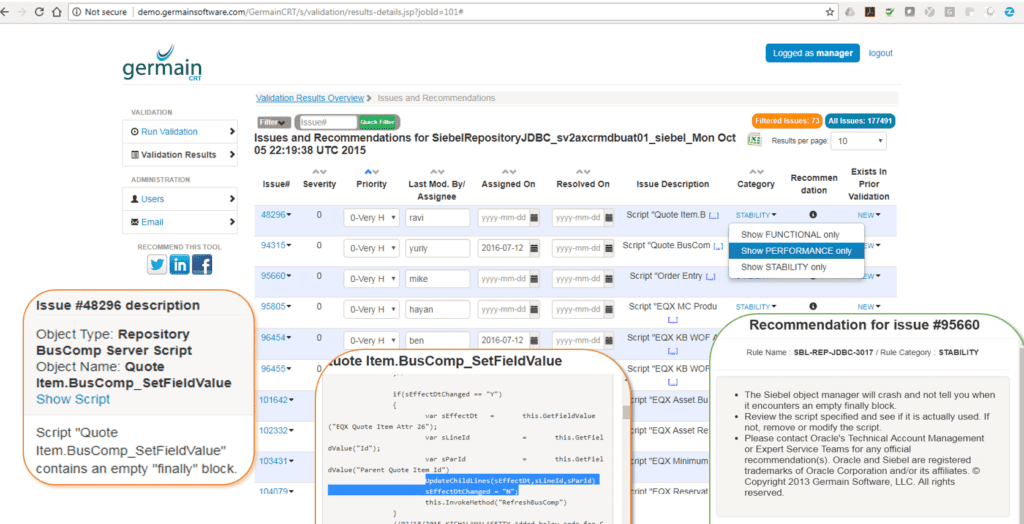 Automatically identify and prioritize configurations and customization known to cause errors and performance issues before production deployment
Reduce the cost and time to bring new patches and releases to production
Dramatically improve the quality of your Siebel CRM application even before the QA process can begin
Remind developers about customization best practices
Perform cost-effective checks that outsourced development teams are performing customization "as good as advertised"
Tackling issues in the development phases
Germain CRT is a great complement to our Germain UX flagship product. We found that most Siebel customers are dealing with successive layers of customizations, created by heterogeneous development teams who have variable experience of conforming to Siebel's best practices. While many organizations leverage our Application Performance Management solutions to resolve the resulting issues in late stages of QA and production, why not give them a proactive way to avoid many of these issues in the first place? That's exactly what Germain CRT is about.
The new tool installs on your desktop in just minutes, connects to your development or QA repository and will work through your configurations and customizations to provide you with a complete analysis for your Siebel repository.
At the core of Germain CRT for Siebel is an extensive built-in library of best practices derived from the Oracle Siebel bookshelf but also from Germain's extensive hands-on knowledge of troubleshooting large-scale Siebel deployments. Our library is able to pinpoint issues that are known to cause memory leaks, Siebel object manager crashes, and slow performance for end users.
These best practices cover every aspect of Siebel declarative configuration settings, customizations and
extensions, including:
Database Indexes
Siebel Applets
Siebel Applications
Siebel Business Components
Siebel Business Services
Siebel eScript
Siebel Screens
Siebel Views
Siebel Workflow Processes
Siebel User Properties
An non-intrusive tool that you can test today with a free trial
One of our goals in designing germain CRT was to make sure that it's non-intrusive. We wanted the tool to be installed in minutes and quickly locate, analyze, and prioritize issues with minimal intervention from developers. germain CRT is built around a very powerful rule-based engine that makes it fast, flexible and easy to maintain and extend by Germain Software and its customers.
Customers can add new check points/validation rules and deepen the level of review that is ultimately performed, while an embedded database and embedded http server means that germain CRT can be installed in minutes and run on most PCs. You don't have to train any of your employees to use complicated new tools, and you don't have to radically alter your existing QA workflow. Just set your priorities with our intuitive interface, set aside a few hours for the software to run, and germain CRT will take care of the rest.
To prove its value to you, we made it available as a free trial.