"No product is an island. A product is more than the product. It is a cohesive, integrated set of experiences. Think through all of the stages of a product or service – from initial intentions through final reflections, from first usage to help, service, and maintenance. Make them all work together seamlessly."
— Don Norman [inventor of the term "User Experience"]
User Experience (UX) Design: The Definitive Beginner's Guide
The importance of UX design is on the rise. Customer expectations have accelerated in the post-pandemic world.
According to 
PwC
, even when people love a company or a product, 17% of US consumers will walk away after just one bad experience.
So follow along for the key considerations in this important space.
What is User Experience (UX) Design?
According to the 
Interaction Design Foundation
, User Experience (UX) design is "the process design teams use to create products that provide meaningful and relevant experiences to users." And this process covers the design of the end-to-end lifecycle of acquiring, integrating, owning, and troubleshooting the product.
And although the term "UX design" is often used interchangeably with "User Interface (UI) design" or "usability", these are only subsets of it. UX design covers additional aspects. UX designers focus on usability, function, design, and branding. But they also focus on efficiency, fun, and pleasure.
Consequently, there's no ultimate definition of a "great" user experience. It depends on a specific context and a user's needs when interacting with the product.
However, good UX design is important and can make or break a business' product and customer relationships. And according to 
Forrester
, better UX design can yield conversion rates of up to 400%.
The so-called "UX pyramid" has frequently been used to provide a strategic context to an organization's UX approach.
Most UX pyramids agree on the bottom two layers. Firstly, the UX should work. Products should be functional, reliable, and usable. Secondly, the UX should provide a pleasant experience. Products should be aesthetically pleasing, enjoyable, and desirable.
But the shift from good to great products happens with the consideration of user needs at the third and top layer.
And 
Abraham Maslow's
 general hierarchy of human needs can be used as a proxy for user needs. Regardless of the product in question, it will be used for one of the human needs identified by Maslow (whether it'd be to satisfy a physiological, safety, love/belonging, esteem, or self-actualization need).
How Should Designers Approach UX?
A UX designer should follow three guiding questions in the following order:
Source: Interaction Design Foundation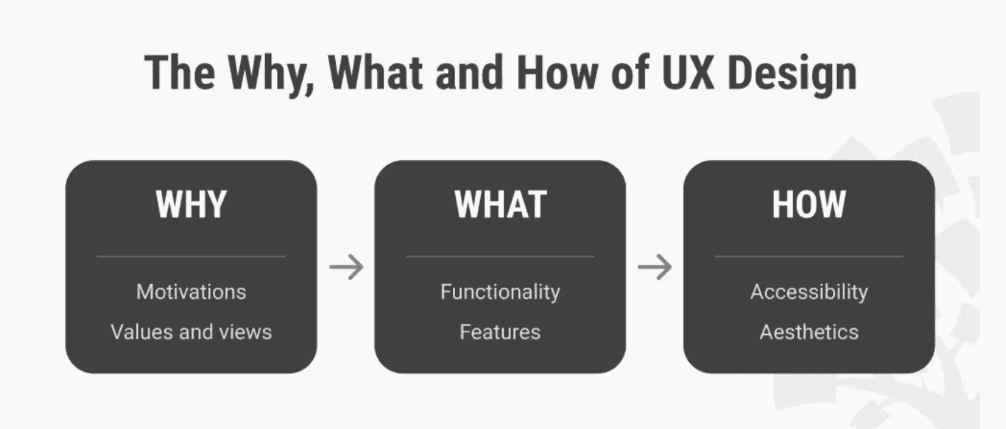 What Are the Top 5 UX Best Practices?
Regardless of the target customer or the product at hand, there are some general UX best practices to keep in mind in 2022:
The basic rule to remember is that "the user comes first". UX relates to having a deep understanding of your users' behaviors, motivations, goals, and limitations. Therefore, user research should be an essential part of your UX design process. Methodologies such as interviews, observation, usability testing, surveys, analytics, and A/B testing are just a few helpful ways to get a deep understanding of your specific user.
2. Focus on the customer journey
Consider how each part of the UX affects your customer's decision-making and what you can do to improve it. Also, continue gathering end-user feedback after implementation to continuously improve your product.
Simplicity overrides usability because your users won't be able to use your product/website/app if it isn't simple enough. In a way then, simplicity is a prerequisite to usability. And Apple, Google, and other tech powerhouse have proven just that.
4. Do not sacrifice functionality for design
Overstuffed visuals, overloaded texts, and distracting pop-ups are common UX design slips that can turn away customers. The design should complement the product function, not the other way around.
5. Offer personalization options
Consumers are becoming more sophisticated and more accustomed to the digital space. Today's customers appreciate user-friendly choices and the ability to personalize their digital spaces according to their identities and preferences.
What Are the Key UX Trends to Watch Out for in 2022?
With over 1.8 billion websites live around the globe, online differentiation is both challenging and imperative. And there are a few cutting-edge trends that have recently emerged with the development of remote-working and virtual environments.
1. Voice & air gesture control
Techniques of communicating with gadgets that don't require physical touch are on the rise. For example, consider translation applications. The user speaks a few words into the microphone for the transcription to appear on the screen.
2. Augmented Reality (AR) features
With the increased focus on the Metaverse and Web 3.0, AR is becoming a trend in all sectors. And the supporting tech – VR headsets, advanced haptic feedback, 3D modeling tools, and more – is advancing as well. Likewise, more websites are adopting the power of AR to serve useful and interactive content to their site visitors.
3. Minimalist & contemporary aesthetics
Minimalism is on the rise. According to repeat research, information overload can paralyze customers' decision-making and purchasing decisions. And visuals also play a critical role in this. Thus, UX designers are continuously looking for innovative ways to simplify graphic components, utilize color schemes that emphasize the design's simplicity (e.g. pastel hues), and prioritize the quality versus quantity of words.
Competition and increased customer expectations have made great UX a necessity.
Nowadays, there are many products with comparable features tackling the same problem. So to stand out and scale, companies need to create products that users fall in love with and keep coming back to. Make sure your UX creates an overall delightful customer experience.