Brand loyalty might be on the decline, but ecommerce is on the rise. Ecommerce is on track to account for 24% of global retail sales by the end of 2026.

Source: Statista
And as businesses reach growth limits in their local markets, the industry is seeing more ecommerce brands expanding onto the global stage. 76% of online shoppers have made purchases on sites outside of their own countries. 
So whether you're looking to join the momentum and start or grow your online business, there are more than 140 ecommerce platforms to choose from. WooCommerce is one of them.
What is WooCommerce?
WooCommerce is a customizable, open-source ecommerce platform built on WordPress. And this platform comes with powerful features.
WooCommerce helps you set up a new online store within minutes, simply by adding the WooCommerce plugin to any WordPress site. But it's also developer-friendly. The platform is scalable and can integrate with virtually any service through its REST API.
It also comes with several out-of-the-box functionalities, including payments or configurable shipping options. Plus, it is fully customizable through its features and official extensions from the Marketplace. The WooCommerce Mobile App lets you manage your business on the go and from anywhere in the world.
The platform has also built one of the fastest-growing ecommerce communities with a wealth of tips, tricks, and resources as well as 80+ meetups worldwide. For those sellers needing extra help, it offers a directory of verified agencies and freelancers.
The 3 Steps You Can Take to Grow Your WooCommerce Business
Whether you are just getting started on WooCommerce or are already there and want to scale your business, these are three key steps you can take to grow rapidly.
Create an omnichannel experience
Omnichannel ecommerce centralizes shoppers' interactions to provide a consistent experience across channels (e.g. across your website, app, social media platforms, etc.). 
An omnichannel approach allows your customer the flexibility to interact with your business in their preferred way and time. Today's customers expect to be able to buy on the computer, via phone, over an app, pick up in-store, pick up at a pre-defined location, or receive a delivery. And a retailer that cannot offer a variety of purchasing channels could forego up to 10-30% in sales.
Once you have set up an omnichannel experience for your customers, go above and beyond to enhance it. For example, offer outstanding customer service across channels – via phone, email, chat, etc. Also, make it easy to return products regardless of the purchase channel. Lastly, optimize your payments system to work seamlessly across online and offline touchpoints.
Focus on your Search Engine Optimization (SEO)
In addition to offering desirable products, you will also need to help shoppers discover your online shop to sell. 
39% of online purchases are influenced by a relevant search. And that's what ecommerce search engine optimization (SEO) makes possible.
Firstly, to optimize your SEO, make sure to use the right keywords. Identify the right words and phrases people search for that match your offering. That is, target those keywords with the highest search volume and the lowest competition. And then use these words across your titles, descriptions, and URLs. 
Secondly, use high-resolution pictures to showcase your products to your customers. Also, consider using "image alt text" to label these pictures so that they can also appear on relevant product image searches.
Thirdly, consider starting an ecommerce blog. Blogs are an excellent way to draw in and build relationships with prospective customers. And if you offer your visitors the opportunity to sign up for your mailing list, you can stay in touch with them via email marketing going forward.
Take advantage of extensions
WooCommerce makes a variety of extensions available and many of them prove conversion-boosting.
For example, consider WooComerce Payments. While third-party payment processors can offer an excellent service, migrating customers to a different site to complete payment could impact your conversion rates. Instead, WooCommerce's extension lets you accept payments and manage them in a centralized dashboard. It's available in over 20 countries with additional ones to be onboarded in the future. Plus, it enables traditional payment methods along with newer solutions (like Apple Pay or Google Pay), offering customers the right variety of payment options.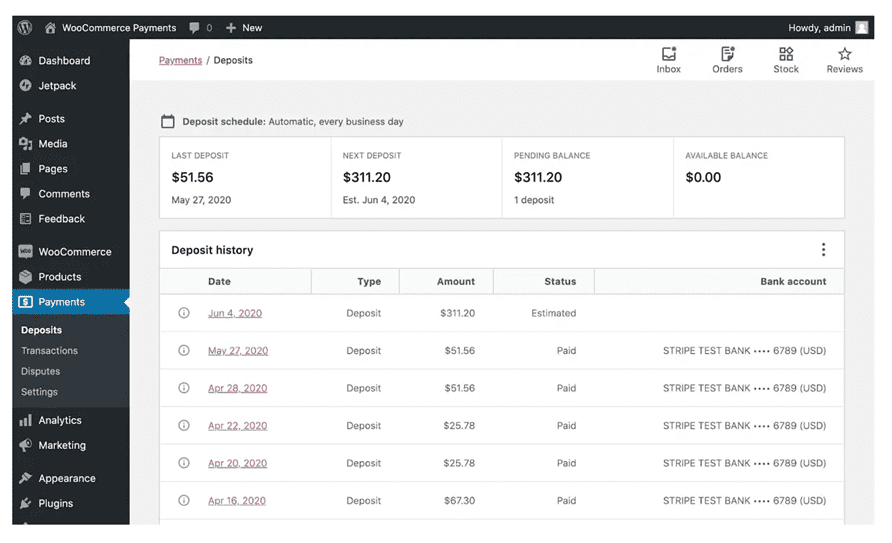 Source: WooCommerce Payments
Also, WooCommerce's Product Recommendations extension is highly effective. It provides examples of similar or related products that the customer might be interested in. Thereby, it helps with upsells and cross-sells for items that are "frequently bought together." This extension is highly customizable and can be placed across 20 optional locations (whether it'd be category pages, checkout pages, or post-purchase thank you pages).
Or, you could consider the Checkout Deal extension. This extension automatically offers a limited-time coupon right on the checkout page (think "buy within the next 15 minutes to save 20%). This extension helps reduce abandoned carts and increase conversions.
Lastly, WooCommerce's LiveChat extension helps you respond to a shopper with a real-time question. This extension helps answer questions or solve problems, thereby directly leading to timely and outstanding customer service.
How Germain UX Can Help With Your WooCommerce Performance
Germain UX recently rolled out its Real User Experience Monitoring Insights and User Replay features to several eCommerce platforms, including WooCommerce. 
You can now integrate Germain UX into your WooCommerce site and start improving your User Experience via our real-time user monitoring automation, alerts, and insights.
Get in touch with our team if you need help set this up.
Conclusion
Due to the pandemic, the number of ecommerce sites more than doubled in 2021. The number rose from 9.7 million to 19.8 million, amounting to 204% in year-over-year growth.  
As a result, there are more than 26 million eCommerce sites across the globe, with additional sites springing up every day.
One of the main benefits of modern ecommerce is the power shift from large companies to small companies, startups, and digital mom-and-pop shops. The relatively affordable costs, increase in the addressable market and low barriers to entry have made ecommerce attractive and accessible to nearly anyone. 
So now might just be the perfect time for you to start or scale your online business too.