Modern user interfaces and exceptional employees aren't just enough to deliver optimal DX/Digital Experience. Mission-critical technologies that perform well, easy to use, exceptional interaction with every touchpoint of an organization. Operational excellence has become more challenging as it relies on more complex infrastructure and technologies, and users with different background and experience, and an ever evolving world that demands more, faster and better. Organizations need a tool to manage and improve DX, ideally proactively or reactively.
These tools are called all-in-one-APM-RUM-BPM-Automation solutions. In this article, we are focusing on the RUM side, yet it is critical to note that organizations need a modern and all-in-one monitoring, analytics, and automation platform, that provides User Experience, Process and Technology insights and not only helps proactively detect issues but also helps resolve them.
6 of the best Real User Monitoring Tools and how to choose one
Here is a list comparing 6 of the best real user monitoring (RUM) tools (and we have been in this since 2001):
---
Germain UX

germainAPM's real user experience platform is helping companies like American Airlines, eBay, Anz Bank, General Electric, Volvo, Pepsi improve their user experience at a fraction of the cost of other solutions.
A Real User Monitoring solution that offers 100% visibility in your User Experience of your website or other web application.
germainAPM allows you to record individual user sessions, replay them whenever you like to watch what a user did, identify the most expensive user experience issues, identify the root-cause of a user issue from a javascript failure, a slow http request, a crashing back-end application code, a corrupted database query/SQL, etc
This technology is vastly different than traditional APM and RUM systems. See how quickly you can detect and resolve issues when your APM system records user sessions and performs automatic root-cause analysis. This, in turn, leads to lower churn rates and improved user experience.
In light of the corona crisis, businesses are being forced to cut costs, work smarter, and eliminate inefficiencies. GermainAPM is offering financial relief through a special offer that has cut expenses by 50-600% for companies.
Features
Real User Session Recording & Replay
Issue Diagnosis (end-to-end, page, javascript, backend code, sql, etc)
Proactive Detection
Automatic Resolution (flexible automation)
DX to Technology mapping
Pricing
$29->$5K/month (1-12 months) & $51->$12K/month (after) | Unlimited & Free Help | Pricing details here
Pros
The cheapest solution, by far!
End-to-end insights (ux, process, tech)
Correlation (e.g. for transaction tracking across data sources)
All-in-one APM, RUM, BPM, BI and Automation
Cons
Lack of collaboration features
Support from US and Europe timezones
Read more about our RUM solution
---

Fullstory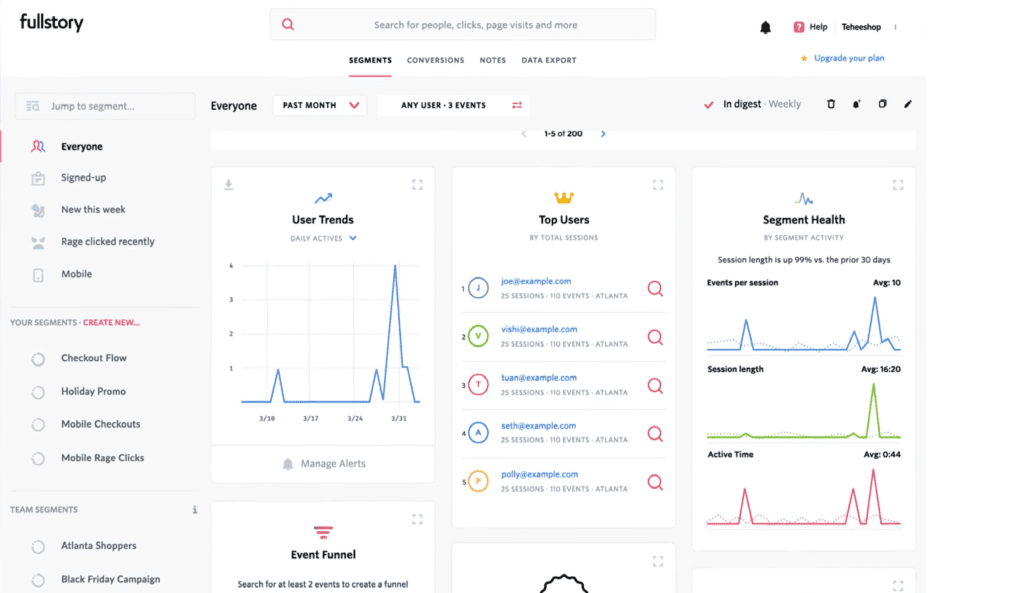 Fullstory is one of the best website monitoring service that offers complete real-time visibility of digital experience. You can monitor the activity of all mobile and web application users across all devices and browsers to assess and improve user satisfaction.
With Fullstory you can also collect business-relevant metrics, allowing you to correlate performance issues with potential business impact.
Features
Analytics
Collaboration
Record and Replay
Search
Integrate
Pricing
Expensive. Available on request here
Pros
Modern UI
Collaboration features
Integrations
Cons
Expensive
Lack User Experience insights
---
Hotjar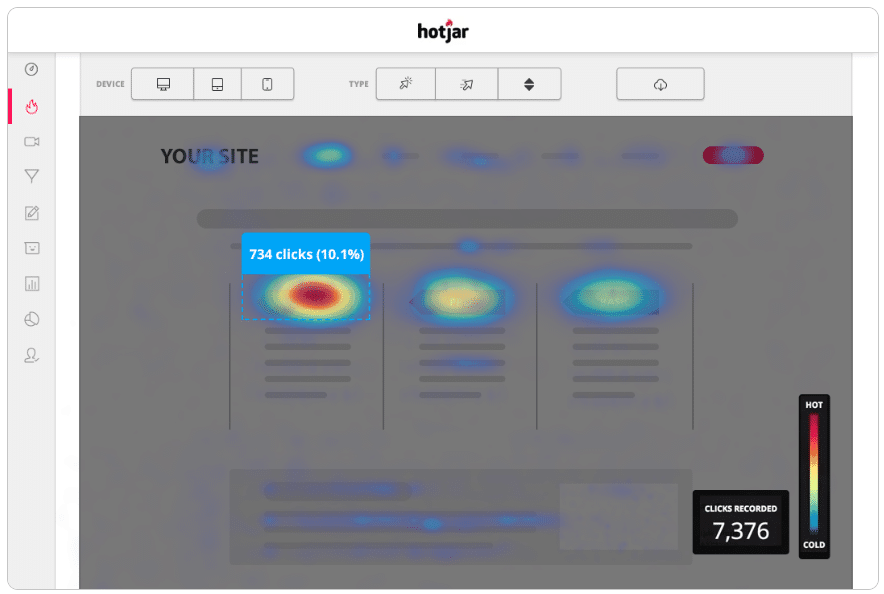 Hotjar's User Experience monitoring solution that offers complete User Experience insights for your website.
Great heatmap and analytics helping find UX frictions. Built for Marketers, Product Managers and UX Designers.
Features
Heatmap
User Session Recording
Conversion funnel
Pricing
Pricey and available here
Pros
HeatMap
Session Replay
Integrations
Cons
No User Issue Diagnosis
Lack of User Behavior insights
Old UI
---
Dynatrace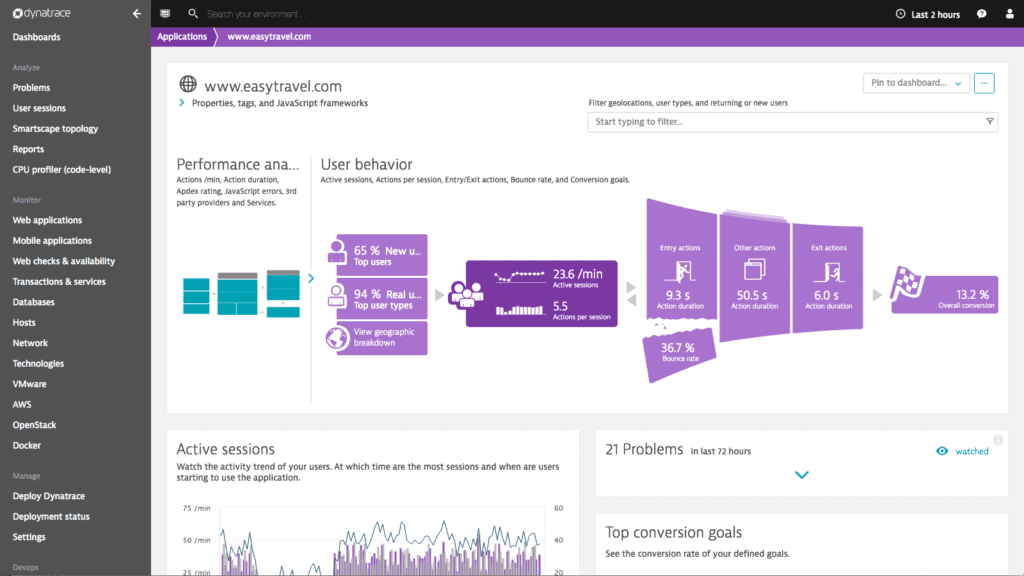 Dynatrace is one of the oldest solution on the market, Dynatrace has clearly a significant amount of features in the area of monitoring, analytics and automation for your website, technologies. You can map the whole user journey.
Awareness into performance issues and potential business impact. Ability to resolve problems proactively with real-time data
Features
Digital Experience
Application Performance
Infrastructure Monitoring
Digital Business Experience
AIops
Pricing
Pros
Lots of features
Deep dive in Tech stack
All-in-one APM, RUM and BPM
Cons
Missing tones of User Behavior and Issue insights
Not Easy to use
---
NewRelic Browser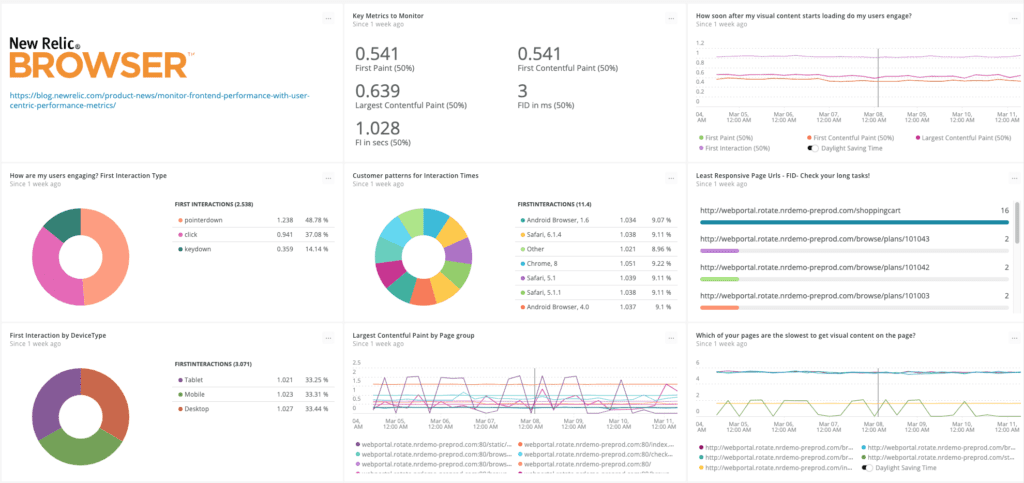 NewRelic monitors the entire life cycle of a page or a view, from the moment users enter the app until they disconnect. User-centric perceived performance. Easily isolates latency of network vs. backend services. Utilizes lab and field data to ensure successful deployments. Understands how page speed impacts bounce, abandonment, and user satisfaction. Provides deep insights for JavaScript errors.
Features
End-to-end visibility
Incident Troubleshooting (Ajax, Java, Calls, etc)
Distributed tracing
Synthetic Lab
Browser Pageviews and Page Load Times
Session Traces
Single page application(SPA) support
Pricing
Expensive, check it out here
Pros
Easy to deploy
Supports many Technologies
Cons
Missing UX Insights
Lack of Issue Diagnosis
Hard to scale
---
AppDynamics Browser RUM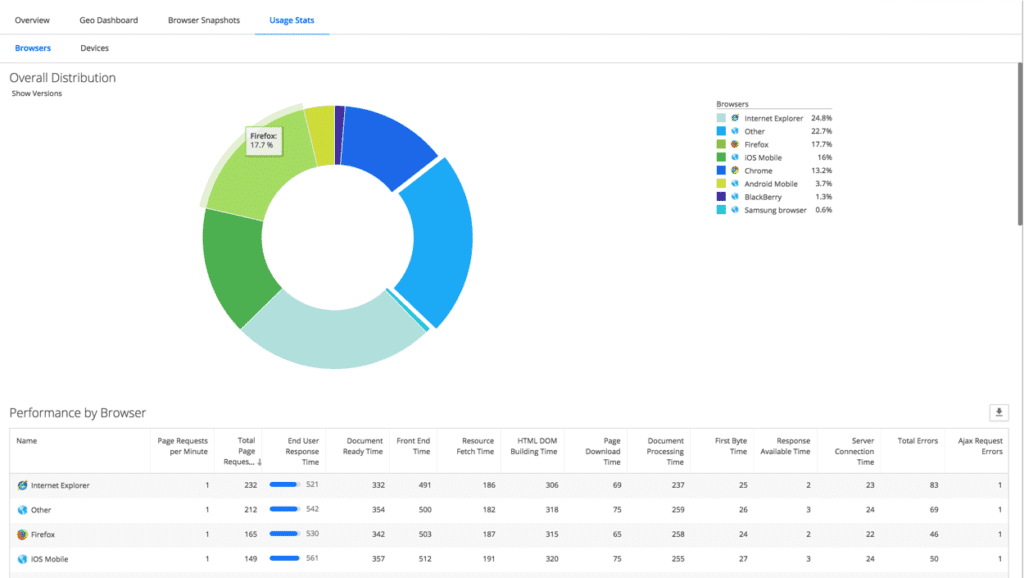 AppDynamics's RUM tool monitors users' customer journey and experience across the globe through a single pane of glass. Understands the regional variability on your website or single page application (SPA) experience. Resolves web performance bottlenecks
Features
Single page application (SPA) experience
Customer journey and experience
Browser snapshot waterfalls
Dynamic baselining
User Sessions Tracking
Pricing
Pricing available on request here
Pros
Quickly resolve web performance
Accurate browser-user insights
Cons
Missing tones of UX insights
No end-to-end issue diagnosis
Another pricey tool
---
How to Choose a Real User Monitoring Tool
Some points to take into account before selecting a RUM:
Features
Focus on the actual benefits. Features are obviously important, but more importantly, select the tool that will help your organization solve mission-critical issues, at a fraction of the cost. The most basic RUM tool should be able to:
Real User Session Record/Replay
End-to-end User Issue diagnosis (Behavior insights, Technology insights @code, sql… levels)
Browser-level synthetic click
Smart & Flexible Automation
Intelligent Alerting
Easy-to-create your own Dashboard and Reporting
No-technical skills needed to Find Insights
Collaboration features
Ease of Use
Focus on how quickly it takes to solve your critical business problems, don't get impressed with tools that quickly show data on a pretty dashboard, focus on the ones that effectively help you detect and solve your mission-critical problems. Also critical to select the ones that follow a consistent approach when building their UI, making easier to use
Exceptional & Free-of-charge Support
Choose the organizations that are willing to help you, at no charge, grow your RUM within your organization. You will find it very hard to find them…most charge for this. And that support needs to be effective, provided by devops, ux or bizops experts
Ready-to-evolve RUM
Look out for organizations that have built a RUM that can evolve as technologies evolve. Not every RUM can easily switch javascript framework, or migrate from a relation database to noSQL data store. You will need this flexibility if you like to grow this technology within your organization
Licensing
Forget about all these feature-driven pricing models and opt of the ones that focus on benefit/volume. And when you look at volume, is it in the thousands, hundred of thousands, millions…of transactions. and what type of transactions are they talking about. And finally select the RUM that provide a clear roadmap, a product roadmap, that is inline with your mission
---
What RUM Tool Will You Use?
Great user experience on a web application is just one of piece of your business puzzle, which is what RUM solutions deliver. if you are looking at growing our organization with a platform, you need more than a RUM, you need an all-in-one APM-RUM-BPM-Automation platform. A platform that is easy to use, can scale. A platform that can track your Digital Experience and is able to correlate customer events across technologies, application, etc
Check out germainAPM,an all-in-one APM-RUM-BPM-Automation platform that will help your organization (and your career) scale! ????