As the world has shifted towards remote work in the wake of Covid-19, the need for remote management and monitoring tools has increased. Managed service providers (MSPs) use RMMs to provide off-site, automated and streamlined support to their clients for their IT needs. Having an efficient 
RMM
 can reduce workload and give MSPs a competitive edge over adversaries. So let's take a more detailed look at what an RMM software can do and then a look at the best RMM software tools for MSPs in 2022.
Remote Monitoring and Management Software (RMM) is used by Managed Service Providers for off-site visibility to remotely monitor the performance of endpoints and networks, access devices, deploy patches and perform other IT management tasks. RMM software secures systems by monitoring several endpoints. It schedules routine maintenance tasks, automates backup, creates alerts and tickets when an issue arises and gathers data about the network, hardware or software of a client to improve the overall customer experience. Now that you understand how an RMM software works, let's look at a list of the five best RMM software tools available to you in 2022.
Atera is a popular cloud-based remote monitoring software which was launched in 2011. It provides scalable IT service management for rapidly expanding startups and small businesses. Some of the pros for Atera are that it provides real-time monitoring, remote access and automated ticket management. It includes remote
control, patch management, discovery, security and backup. Atera is an easy to use software for beginners and novices.
However, Atera does not offer a great mobile device management option and faces some troubleshooting issues with it's reporting. For example, sometimes it will stop working and would have to be reinstalled on the client's computer or occasionally the patch management might fail when an update is being deployed. It also has a slow connection on its website and does not integrate with a lot of the products out there. The paid plugins on Atera are really costly.
It can also control both local and remote devices and offers good customer support.
Some cons include a weak reposting system, does not have a Helpdesk or email automation. It's also a little more complicated to learn and the implementation process takes a long time. Making even a minor configuration change or adding a new user can be a cumbersome process with NninjaOne.
user behavior analysis, distributed transaction and deep diagnosis, business process smart insights, super flexible automation and unlimited support for configuring, customizing or finding insights through help articles, live chat, phone call and email.
It was ranked the top RMM on 
SoftwareReviews
 and high performer on 
G2
. While 
Capterra
 calls it the Best Value APM. Germain UX  has a simple and easy to use interface, provides end to end transaction insights, 24/7 real-time monitoring with a razor sharp focus on customer service and retention. It identifies issues with user interface and experience and offers simple solutions to help businesses reduce churn. It's insights are superior to any other RMM out there, it helps clients by understanding their pain points such as low conversion rate and ineffective business operations and provides solutions in terms of data which identifies the main gaps and their root causes, which can be used by MSPs to come up with solutions before the problem even becomes problematic.
What makes Germain UX the best RMM software in 2022 is that it is constantly learning, evolving and improving for its users. It's the most cost-effective and fully customizable software that provides end-to-end root cause analysis of functional and technological issues. All the while providing automation to proactively detect and resolve client's IT related issues without any hassle.
The product is ambitious but some of its features are lacking in performance. Auvik does not have a well functioning live chat support, there is not much ability to create custom device queries and does not work fully with Netgear Products. It's also not cost-effective, the web based devices are slow to load and does not have much latency between sites. It's live mapping feature is ambitious but does not always work so the biggest downfall of this RMM is that it's not consistent.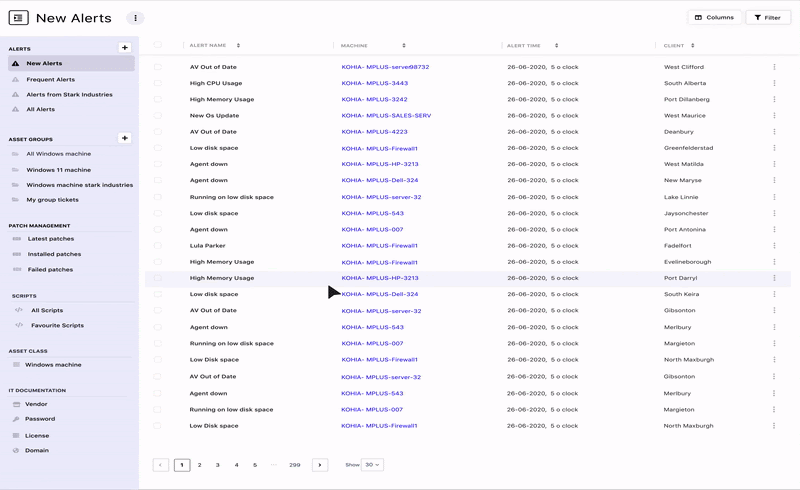 This is a SaaS platform that is an AI driven MSP software that offers PSA and RMM functions. It has management features for assets, policies, patches and alerts. One of the best things about this software is that it has a comprehensive logging system for technician activity and it's expandable with integrations. SuperOps monitors the inventory of client assets and tracks details through history, files, documents and associated tickets through automatic scans using its discovery agent.
However, it can only monitor endpoints running Windows and there is no integrated remote access tool, it also does not have much market value because the product is fairly new and does not have many of the traditional RMM features like Germain UX which is one of the oldest players of the game.
The Best RMM Software for 2022
All of these RMM softwares are better than the other ones excluded from the list. That being said, if you're looking for an RMM that is easy to use, constantly improving and focused on serving it's clients in real time and helping them shoulder the burden of remote monitoring and management through a true partnership, then Germain UX is your safest and most cost-effective bet.